Sheryl Crow Admits She Still Feels Star Struck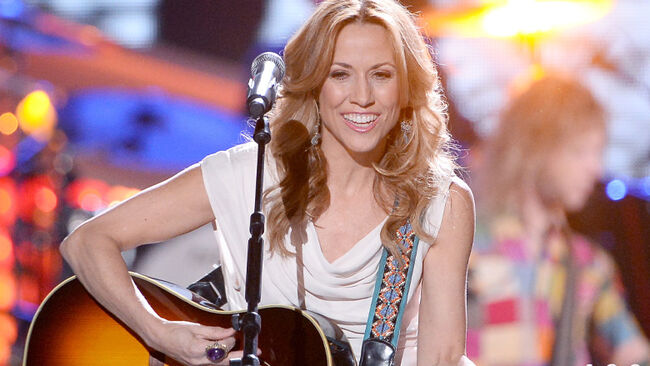 In an interview with Cody Alan, Sheryl Crow admits that she still finds herself entirely in awe around her celebrity friends. In fact, her collaboration-based album 'Threads' which is set to arrive on August 30, could have easily been called "Star Struck." 
"This album should be called Star stuck because it's got so many of those people on it," said Sheryl. "I am the geeky kid who had all of the albums, that laid on the floor and listened to them on the big record player and read the album notes. I'm still that person."
"I get really geeked out by Mick Jagger. There are some people now that I would still be like that with but I have sung with them so much that its almost familial. Even Stevie [Stevie Nicks], even though she is a really dear friend. Every once in a while I have that moment where I go, 'Oh my gosh! That's the girl in the ballet slippers.'" 
"I also get geeked out over some of these new kids, like Maren [Maren Morris]. It's fun to be around somebody that has that star energy."
Sheryl reunites with almost all of her musical friends featured on her album, 'Threads' for a special edition of CMT Crossroads. CMT Crossroads: Sheryl Crow & Friends will premiere on CMT on September 27.
Threads Track List & Songwriters
1.   "Prove You Wrong" ft. Stevie Nicks & Maren Morris | Writers: Sheryl Crow, Al Anderson, Leslie Satcher
2.   "Live Wire" ft. Bonnie Raitt & Mavis Staples | Writers: Sheryl Crow, Jeff Trott
3.   "Tell Me When It's Over" ft. Chris Stapleton | Writers: Sheryl Crow, Chris Stapleton
4.   "Story Of Everything" ft. Chuck D, Andra Day & Gary Clark Jr. | Writers: Sheryl Crow, Steve Jordan, Carlton Ridenhour
5.   "Beware Of Darkness" ft. Eric Clapton, Sting & Brandi Carlile | Writer: George Harrison
6.   "Redemption Day" ft. Johnny Cash | Writer: Sheryl Crow
7.   "Cross Creek Road" ft. Lukas Nelson (digital/physical) / ft. Margo Price (vinyl) | Writers: Sheryl Crow, Jeff Trott
8.   "Everything Is Broken" ft. Jason Isbell | Writer: Bob Dylan
9.   "The Worst" ft. Keith Richards | Writers: Mick Jagger, Keith Richards
10. "Lonely Alone" ft. Willie Nelson | Writers: Sheryl Crow, Shane McAnally
11. "Border Lord" ft. Kris Kristofferson | Writers: Kris Kristofferson, Donnie Fritts, Stephen Bruton, Terry Paul
12. "Still The Good Old Days" ft. Joe Walsh | Writers: Sheryl Crow, Joe Walsh
Photo Credit: Getty Images.

CMT Cody Alan
Want to know more about CMT Cody Alan? Get their official bio, social pages & articles on CMT Radio Live + CMT After MidNite + CMT All Access!
Read more