He's already won the Heisman Trophy and he is just a Freshman, what's next?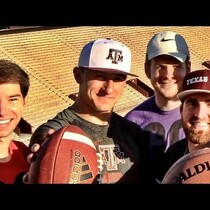 Posted January 28th, 2013 @ 6:33am
Johnny Manziel can't have too much left on his to-do list from his first season of action at Texas A&M.
It's only his Freshman year he has already nabbed himself the Heisman Trophy, and the Cotton Bowl Trophy, and now he is adding a trick video to his list as well!
Watch below as he and the group "Dude Perfect" (known for their awesome trick basketball videos) team up for this awesome "trick" video!